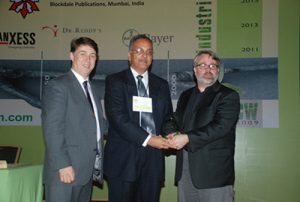 CATAPHARMA HONOURED with "GREEN CHEMISTRY 2009" AWARD
CATAPHARMA, a Nashik based Medium scale unit, has been awarded the prestigious Green Chemistry Award 2009 in the "Start-up to Medium Scale Enterprises Category" in Industrial Green Chemistry Workshop – IGCW 2009, a premier global event for the industry, recently held in Mumbai. The event (www.industrialgreenchem.com) was attended by over 325 senior decision makers from 135 leading fine and specialty chemical companies (including Drugs and Pharma, Agrochemicals, Dyes and Pigments etc.) from India and abroad.
The chemical industry is a $ 3 trillion global industry, with more than eighty thousand chemicals in commerce, impacting every aspect of human life. The chemical world now faces the challenge of addressing the E-factor (kg waste generated / kg production) by exploring the prevention of pollution as a profit center. Innovative and sustainable concepts of Green Chemistry and Green Engineering are emerging as the new paradigms to reduce pollution and improve profitability of business at the same time.
Greener innovations may use less polluting synthetic pathways than the existing one or use milder reaction conditions than existing one or replace present molecule so as to create lesser pollution upon their usage. Greener technologies benefits human health and environment. The Green Chemistry award is an effort to recognize outstanding research and initiatives, by individuals and corporate, in Green Chemistry and Engineering to promote innovation in cleaner, cheaper, smarter chemistry.
CATAPHARMA, started their operation in 1986 at Sinnar, is one of the pioneers in the country for innovatively employing the catalytic chemistry to produce many import substitutes with non-polluting technology of Catalytic hydrogenation. It produces no waste and water is the only main bye-product which eco-fiendly. The innovations done by the company to replace older technologies were scrutinized by a panel of Jury comprising of eminent scientists and world authorities on Green Chemistry including Prof Paul Anastas (who worked for U.S. Environmental Protection Agency (EPA) as the Chief of the Industrial Chemistry Branch and as the Director of the U.S. Green Chemistry Program) and Dr.John Warner, known worldwide as the father of Green Chemistry concept.
Dr.Shrikant Karwa, founder of CATAPHARMA Group, directly ventured in industry after completing his research for doctorate. In eighties, there was a great dependence of our chemical industry on imports due to cheaper imports produced by western world using state-of-the-art technologies. At the same time, environment in our country was at a great risk due to continued use of age-old technologies. This greatly restricted country's price competitiveness in world market for value added products. Dr.Karwa, rather than proceeding for further education in US or an employment with MNC, preferred to stay back in the country to employ industrially state-of-the-art technol
---